Senator Elizabeth Warren (D-MA) has shown in the past she's not afraid to stretch the truth a little. Warren's latest claim involves her lack of a penis and how it's cost her political career.
Warren blamed her third place finish in the Democratic primaries on not having a penis while speaking with an NBC News correspondent.
"Everyone comes up to me and says, 'I would vote for you, if you had a penis,'" Warren vented to Ali Vitali.
On the plane to NH the night of the Iowa caucuses, Warren said: "Everyone comes up to me and says, 'I would vote for you, if you had a penis.'" https://t.co/nAH6GtYk4J

— Alex Thompson (@AlexThomp) August 12, 2022
While this is somewhat surprising to hear, this isn't the first time a Democrat has gone this route. Hillary Clinton claimed that "misogyny and sexism" were "contributing factors" in her upset loss to Donald Trump in 2016.
Also, it's important to remember this wouldn't be the first time Warren was caught in a lie. She once lied about being Native American. She also falsely claimed that she was fired as a public school teacher for being pregnant.
Count Clay Travis of Clay and Buck among those who think it's a lie. He says it's even less true than the Native American claims.
This story is even less true than Elizabeth Warren claiming to be Native American. pic.twitter.com/hPVcfS6kG7

— Clay Travis (@ClayTravis) August 12, 2022
News That Matters had an incredible burn on Beto O'Rourke when they joked that Beto says he hears the same thing on the campaign trail.
Beto O'Rourke today agreed with Elizabeth Warren and said he could sympathize. Quote: "People also come up to me and tell me they would vote for me if I had a penis too." pic.twitter.com/mGmxFWo1DB

— News That Matters (@ThatmattersNews) August 12, 2022
What a time to be alive.
Trending Stories
Episcopal Church Comes Out With Stunning Stance on Sex Changes
The Episcopal Church has come out with a stunning stance with regards to sex changes, even for children. The Episcopal Church is now supportive of sex changes "at all ages," calling it a matter of "religious liberty."
Resolution D066 calls for the Episcopal Church to "advocate for access to gender affirming care in all forms (social, medical, or any other) and at all ages." It also says that backing sex changes is "part of our Baptismal call to respect the dignity of every human being."
UFC President Dana White Gives His Thoughts on the Mar-a-Lago FBI Raid
UFC President Dana White has a long-time relationship with President Donald Trump that goes back to the early days of the UFC. Not only White but several other UFC fighters had Trump's back when it comes to the Mar-a-Lago raid by the FBI.
When White was asked about the raid during a press conference on Tuesday, it was clear whose side White was on.
Do You Stand With Trump or the FBI?
President Trump is under constant attack from the left. Take advantage of this special offer and show your support for President Trump.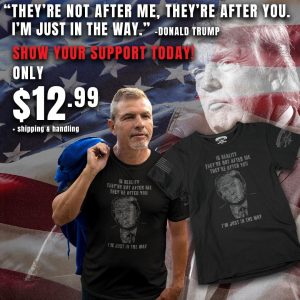 WAIT, WHAT!? Conservative Country Star John Rich Thanks Biden's FBI After Trump Raid
Conservative country music star John Rich reacted to the news of the FBI raid of former President Trump's Mar-a-Lago home with a "big thank you."
Rich, of the country music duo Big & Rich, followed that up with "see you in November!" at the end of his tweet regarding the raid.
Biden Gets Brought Back to Reality After His 'Zero Inflation' Claim
Once again on Wednesday, President Joe Biden showed how out of touch he is with reality when he made the claim there was "zero inflation in the month of July."
Before a bill signing ceremony, Biden appeared to go off script and brag about his failing economy.
Crooked Hillary Attempts to Profit from Mar-a-Lago FBI Raid
Hillary Clinton likes to give us the occasional reminder that she's still around and still awful. In her latest venture, Crooked Hillary attempts to profit from the FBI raid of Mar-a-Lago.
While many people are concerned about the FBI raiding Mar-a-Lago, those on the left are trying to exploit the event. Former Secretary of State Hillary Clinton attempted to use this moment to turn a profit.