Democrat John Fetterman had complaints about the closed-captioning system used at his debate with Republican Dr. Mehmet Oz.
Going into their debate Oz and Fetterman agreed to use a closed-captioning system that would feature a live transcription of the debate moderators' and Oz's words would appear on two large TV screens offstage.
This arrangement was agreed upon to help Fetterman who is dealing with auditory processing issues related to the stroke he suffered in May.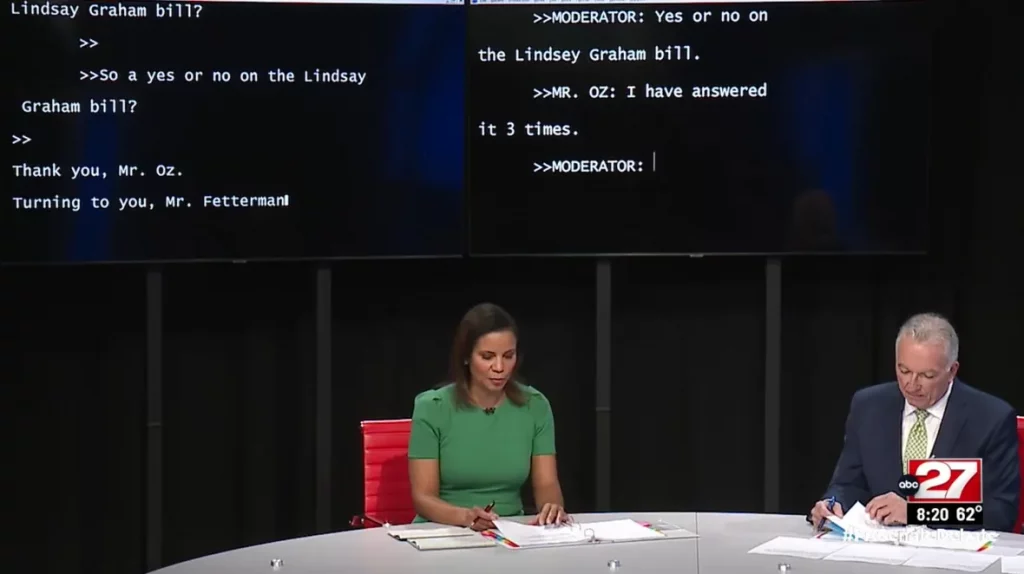 Fetterman's camp said they were thrilled with his performance, but still took a shot at the closed-captioning system.
"We are thrilled with John's performance. He did remarkably well tonight — especially when you consider that he's still recovering from a stroke and was working off of delayed captions filled with errors," said Joe Calvello, communications director for Fetterman's campaign.
Dr. Oz acknowledged their concern and came up with the perfect solution.
"We're sorry to hear that the Fetterman campaign was unhappy with how the closed captioning system that they requested was working on Tuesday," a statement from Oz's campaign said.
"We're happy to do a second debate any time," the statement added, "and let the Fetterman campaign source a closed captioner that they believe is of better quality."
There is zero chance a second debate happens, but their complaints are reduced to zero if they have no interest in a do-over.
Trending Political News
Russia Adds Surprising American Company to Their List of Terrorist Organizations
Russia has added Meta, formerly known as Facebook, to its list of terrorist and extremist organizations.
Russia's Federal Financial Monitoring Service Rosfinmonitoring announced the addition of Facebook to their terrorist list Tuesday, according to a report from the Russian government news network Sputnik.
Liberal Crowd Erupts After Bill Maher Says a Certain 'Bad Politican' Should Be Dumped in 2024
HBO's Bill Maher is becoming more and more fed up with is own political party, calling the Democrats "the party of no common sense" and even took a shot at "not very popular" Vice President Kamala Harris.
The "Real Time" host told his guests, CNN contributor Van Jones and the Atlantic writer Caitlin Flanagan, that President Biden needs to dump her from the 2024 ticket. The liberal audience erupted into applause, which surprised many.
President Biden Gives Insane Response When Asked About Potential Criminal Charges for Hunter
Mark Wahlberg Reveals Why He Really Left California for Nevada
Movie star Mark Wahlberg recently kissed California goodbye and moved his family to Nevada.
So why did Wahlberg relocate his family to Nevada? He made the simple choice "to give my kids a better life." It's as simple as that.
Tim Allen With Hilarious Roast of Biden's Appearance on 60 Minutes
You can count Tim Allen as one of the few Hollywood conservatives. Monday evening he had liberals filled with rage after a fairly mild dig at President Biden's declining cognitive ability.
The former star of "Home Improvement" and "Last Man Standing" made an innocent joke about Biden's appearance on "60 Minutes" and it had liberals out for blood.
Nurse Accused of Murdering 7 Infants Makes Chilling Move