President Joe Biden is facing backlash after video footage surfaced of him checking his watch during a dignified transfer ceremony of Marines slain in Afghanistan by twin suicide bombers.
Biden and his wife stood together with masks on, accompanied by Defense Secretary Lloyd Austin and other members of the military as the ceremony continued.
Video of President Biden checking his watch was captured and isolated by Turning Point USA Chief Creative Officers Benny Johnson. The video has gone completely viral and has reached 600,000 views on Twitter.
Biden appears to check his watch during the dignified transfer ceremony at Dover Air Force Base. pic.twitter.com/oMsBefnmfS

— Benny Johnson (@bennyjohnson) August 29, 2021
Here is the list of the fallen:
• Sgt. Johanny Rosario Pichardo, 25, of Lawrence, Massachusetts, assigned to 5th Marine Expeditionary Brigade, Naval Support Activity Bahrain.
•Sgt. Nicole L. Gee, 23, of Sacramento, California, assigned to Combat Logistics Battalion 24, 24th Marine Expeditionary Unit, II Marine Expeditionary Force, Camp Lejeune, North Carolina.
• Staff Sgt. Darin T. Hoover, 31, of Salt Lake City, Utah.
• Cpl. Hunter Lopez, 22, of Indio, California, a rifleman.
• Cpl. Daegan W. Page, 23, of Omaha, Nebraska, a rifleman.
• Cpl. Humberto A. Sanchez, 22, of Logansport, Indiana, a rifleman.
• Lance Cpl. David L. Espinoza, 20, of Rio Bravo, Texas, a rifleman.
• Lance Cpl. Jared M. Schmitz, 20, of St. Charles, Missouri, a rifleman.
• Lance Cpl. Rylee J. McCollum, 20, of Jackson, Wyoming, a rifleman.
• Lance Cpl. Dylan R. Merola, 20, of Rancho Cucamonga, California, a rifleman.
• Lance Cpl. Kareem M. Nikoui, 20, of Norco, California.
• Navy Corpsman Maxton W. Soviak, 22, of Berlin Heights, Ohio, assigned to 1st Marine Regiment, 1st Marine Division, Camp Pendleton, California.
• Staff Sgt. Ryan C. Knauss, 23, of Corryton, Tennessee. Knauss was assigned to 9th PSYOP Battalion, 8th PSYOP Group, Ft. Bragg, North Carolina.
This isn't the first time Biden has checked his watch at a bad time. It also happened when he decided to check his watch for the time during a ceremony for service members killed in Kabul last week..
Father of Marine killed in Kabul: Biden "looked down at his watch on every last one. All 13. He looked down at his watch." pic.twitter.com/xrBzubhKkq

— RNC Research (@RNCResearch) August 31, 2021
Trending Stories
Episcopal Church Comes Out With Stunning Stance on Sex Changes
The Episcopal Church has come out with a stunning stance with regards to sex changes, even for children. The Episcopal Church is now supportive of sex changes "at all ages," calling it a matter of "religious liberty."
Resolution D066 calls for the Episcopal Church to "advocate for access to gender affirming care in all forms (social, medical, or any other) and at all ages." It also says that backing sex changes is "part of our Baptismal call to respect the dignity of every human being."
UFC President Dana White Gives His Thoughts on the Mar-a-Lago FBI Raid
UFC President Dana White has a long-time relationship with President Donald Trump that goes back to the early days of the UFC. Not only White but several other UFC fighters had Trump's back when it comes to the Mar-a-Lago raid by the FBI.
When White was asked about the raid during a press conference on Tuesday, it was clear whose side White was on.
Do You Stand With Trump or the FBI?
President Trump is under constant attack from the left. Take advantage of this special offer and show your support for President Trump.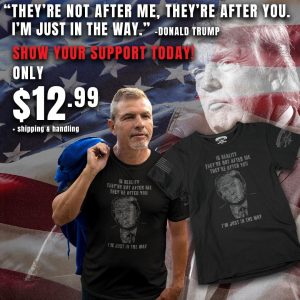 WAIT, WHAT!? Conservative Country Star John Rich Thanks Biden's FBI After Trump Raid
Conservative country music star John Rich reacted to the news of the FBI raid of former President Trump's Mar-a-Lago home with a "big thank you."
Rich, of the country music duo Big & Rich, followed that up with "see you in November!" at the end of his tweet regarding the raid.
Biden Gets Brought Back to Reality After His 'Zero Inflation' Claim
Once again on Wednesday, President Joe Biden showed how out of touch he is with reality when he made the claim there was "zero inflation in the month of July."
Before a bill signing ceremony, Biden appeared to go off script and brag about his failing economy.
Crooked Hillary Attempts to Profit from Mar-a-Lago FBI Raid
Hillary Clinton likes to give us the occasional reminder that she's still around and still awful. In her latest venture, Crooked Hillary attempts to profit from the FBI raid of Mar-a-Lago.
While many people are concerned about the FBI raiding Mar-a-Lago, those on the left are trying to exploit the event. Former Secretary of State Hillary Clinton attempted to use this moment to turn a profit.