Rep. Liz Cheney (R-WY) was up for re-election in her primary race on Tuesday against Harriet Hageman (R-WY) in Wyoming.  Let's just say it didn't go as planned for her.
With more than 95% of the votes in, Hageman received more than 66% of the vote while Cheney was under 30%. Hageman was endorsed by former President Donald Trump. Cheney was not.
Maybe if Cheney had focused more on her re-election instead of focusing on the left's crusade against Trump, things may have ended up differently.
Trump took to Truth Social to share his thoughts on the Wyoming primary.
"Congratulations to Harriet Hageman on her great and very decisive WIN in Wyoming. This is a wonderful result for America, and a complete rebuke of the Unselect Committee of political Hacks and Thugs. Liz Cheney should be ashamed of herself, the way she acted, and her spiteful, sanctimonious words and actions towards others. Now she can finally disappear into the depths of political oblivion where, I am sure, she will be much happier than she is right now. Thank you WYOMING!"
And of course, in classic Trump fashion, he went on to pour salt in the wound and called out her "weak" concession speech.
"Liz Cheney's uninspiring concession speech, in front of a "tiny" crowd in the Great State of Wyoming, focused on her belief that the 2020 Presidential Election was not, despite massive and conclusive evidence to the contrary, Rigged & Stolen. It was, and that's not even counting the fact that many election changes, in numerous States, were not approved by State Legislatures, an absolute must. Liz Cheney is a fool who played right into the hands of those who want to destroy our Country!"
You know President Trump couldn't go without taking a shot at the January 6th Committee of "political hacks and thugs."
I assume that with the very big Liz Cheney loss, far bigger than had ever been anticipated, the January 6th Committee of political Hacks and Thugs will quickly begin the beautiful process of DISSOLUTION? This was a referendum on the never ending Witch Hunt. The people have spoken!
Donald Trump Jr. advised her to look at the bright side: at least she won't have to pretend to be from Wyoming anymore.
Bye bye @Liz_Cheney. On the bright side at least you won't have to pretend to be from Wyoming anymore.
pic.twitter.com/DMcj3ua42d

— Donald Trump Jr. (@DonaldJTrumpJr) August 17, 2022
For some reason, after Cheney's devastating defeat she is now eyeing a possible run at the presidency. Does anyone think she can even poll at 2% in a primary? Not for the Republican Party.
Trending Stories
Episcopal Church Comes Out With Stunning Stance on Sex Changes
The Episcopal Church has come out with a stunning stance with regards to sex changes, even for children. The Episcopal Church is now supportive of sex changes "at all ages," calling it a matter of "religious liberty."
Resolution D066 calls for the Episcopal Church to "advocate for access to gender affirming care in all forms (social, medical, or any other) and at all ages." It also says that backing sex changes is "part of our Baptismal call to respect the dignity of every human being."
UFC President Dana White Gives His Thoughts on the Mar-a-Lago FBI Raid
UFC President Dana White has a long-time relationship with President Donald Trump that goes back to the early days of the UFC. Not only White but several other UFC fighters had Trump's back when it comes to the Mar-a-Lago raid by the FBI.
When White was asked about the raid during a press conference on Tuesday, it was clear whose side White was on.
Do You Stand With Trump or the FBI?
President Trump is under constant attack from the left. Take advantage of this special offer and show your support for President Trump.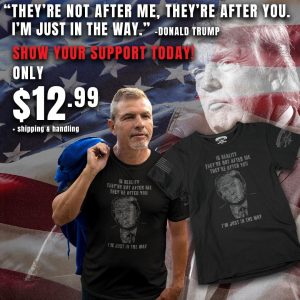 WAIT, WHAT!? Conservative Country Star John Rich Thanks Biden's FBI After Trump Raid
Conservative country music star John Rich reacted to the news of the FBI raid of former President Trump's Mar-a-Lago home with a "big thank you."
Rich, of the country music duo Big & Rich, followed that up with "see you in November!" at the end of his tweet regarding the raid.
Biden Gets Brought Back to Reality After His 'Zero Inflation' Claim
Once again on Wednesday, President Joe Biden showed how out of touch he is with reality when he made the claim there was "zero inflation in the month of July."
Before a bill signing ceremony, Biden appeared to go off script and brag about his failing economy.
Crooked Hillary Attempts to Profit from Mar-a-Lago FBI Raid
Hillary Clinton likes to give us the occasional reminder that she's still around and still awful. In her latest venture, Crooked Hillary attempts to profit from the FBI raid of Mar-a-Lago.
While many people are concerned about the FBI raiding Mar-a-Lago, those on the left are trying to exploit the event. Former Secretary of State Hillary Clinton attempted to use this moment to turn a profit.