If you've decided that Starbucks is not woke enough for you maybe it's time to reconsider things. That's the case for these vegans who are protesting the cost of fake milk outside of Starbucks.
So what are these nuts up to now? They are cementing themselves outside of Starbucks in protest of the cost of fake milk.
This is incredible ??? pic.twitter.com/UDOHbGNufM

— Old Row (@OldRowViral) August 20, 2022
It comes as no surprise that these fools have no idea how capitalism works. If you're above drinking cow milk and opt for the fake milk and it costs more for the business, you're going to pay more.
The good news is there's a hero in this story. Check out the awesome guy at the end of the video celebrating milk with a message on his sign: SOY MILK SUCKS.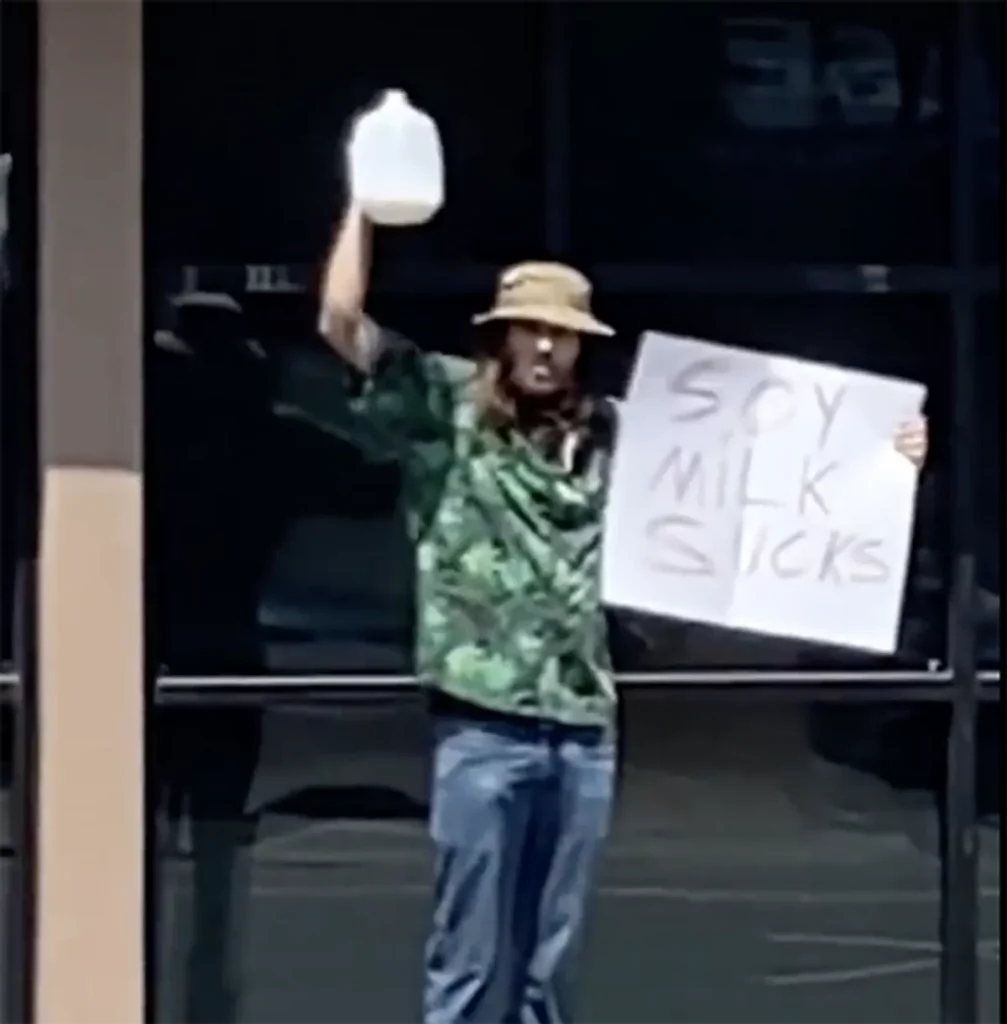 They're willing to waste a whole day and buy cement blocks instead of just paying the extra 50 cents for some of their preferred fake milk. Doesn't make much sense, does it?
Trending Political News
Democrat Incorrectly Thinks She's 'Off the Record' and Spills the Tea on Joe Biden
A Democrat Congresswoman who incorrectly thought she was "off the record" may have just given away what President Joe Biden's plans are for 2024.
In a New York Times interview, Eleanor Randolph of the Times editorial board asked Democratic Rep. Carolyn Maloney of New York if President Biden should run it back in 2024.
Judge Ruling Gives Elon Musk Exactly What He Wants From Twitter
The number of fake Twitter accounts has been a focal point of Elon Musk in his negotiations to purchase Twitter. A judge's ruling will give him the information he desires from Twitter. Delaware Chancery Court Judge Kathaleen McCormick ruled information about fake accounts must be handed over to Musk.
"We look forward to reviewing Beykpour's communications and will continue to seek information and witnesses until the full truth comes out," said Alex Spiro, a Musk lawyer, per Bloomberg.
Senator Manchin Makes Painful Admission About 'Inflation Reduction Act'
It seems if a bill is called the "Inflation Reduction Act" shouldn't it actually reduce inflation? Turns out that's not the case.
On Tuesday Manchin admitted it will not make an impact "immediately." Nonpartisan analysts have said it will have a barely perceptible impact on prices.
University of Alabama Sororities Reject Remembership for Transgender Applicant
Sororities at the University of Alabama took a stand against political correctness and denied a biological male attempting to join their groups.
University of Alabama biological male student Grant Sikes attempted to join the sororities on campus but was denied. He documented his quest on TikTok and racked up millions of views, but ultimately did not achieve the goal of gaining access to a sorority.
Couple Arrested for 'Doing the Deed' on Ferris Wheel at Ohio Amusement Park
A couple was arrested and charged with public indecency when they were caught having sex on the Ferris Wheel ride at the Cedar Point, an Ohio amusement park.
You probably figured this was a couple of horny teenagers. Wrong. Per Fox 11, authorities were alerted to the incident when several bystanders, including two juveniles, witnessed David Davis and Heather Johnston, both 32, allegedly engaging in sexual acts while riding the 145-foot tall Giant Wheel ride in the park.
WATCH: Father Gives Heated Response After Hearing Doctor Ask His 3-Year-Old What His Gender Is
A new video has surfaced, exposing the gender madness the left is cooking up. An outraged father shared his experience with a California doctor who asked his 3-year-old son what his gender is.
The video was shared on Twitter by LibsOfTikTok. In the video, a man is sitting in the front seat of his car while recounting his experience with his wife and son at the doctor.