It seems if a bill is called the "Inflation Reduction Act" shouldn't it actually reduce inflation? Turns out that's not the case.
President Biden hands Sen. Joe Manchin (D-WV) the sole pen he used to sign the Inflation Reduction Act. pic.twitter.com/X2t8EelgHP

— The Recount (@therecount) August 16, 2022
On Tuesday Manchin admitted it will not make an impact "immediately." Nonpartisan analysts have said it will have a barely perceptible impact on prices.
Fox News reporter Hillary Vaughn questioned Manchin on whether or not it's misleading to name the bill the Inflation Reduction Act and it not provide immediate relief from inflation.
"Why would it?"
"Well, immediately it's not," Manchin said. "We've never [said] anything would happen immediately, like turn the switch on and off."
"We're fighting like the dickens. You got to produce yourself out of this," Manchin said. "If you think that you're going to wait on the Federal Reserve to raise rates, discourage you from buying anything (and) that's going to take care of our inflation, that's not how you take care of inflation."
"That's not going to be overnight. They have incentives to do that, to help them. Trust me, if you have something going bad in your home where you're replacing it, and you have some assistance you're thinking of, that might be of help," Manchin said.
If it's not going to help with inflation, then surely they could have come up with a better name. Printing money is not going to help with inflation, no matter how much the Democrats want it to.
Trending Stories
Episcopal Church Comes Out With Stunning Stance on Sex Changes
The Episcopal Church has come out with a stunning stance with regards to sex changes, even for children. The Episcopal Church is now supportive of sex changes "at all ages," calling it a matter of "religious liberty."
Resolution D066 calls for the Episcopal Church to "advocate for access to gender affirming care in all forms (social, medical, or any other) and at all ages." It also says that backing sex changes is "part of our Baptismal call to respect the dignity of every human being."
UFC President Dana White Gives His Thoughts on the Mar-a-Lago FBI Raid
UFC President Dana White has a long-time relationship with President Donald Trump that goes back to the early days of the UFC. Not only White but several other UFC fighters had Trump's back when it comes to the Mar-a-Lago raid by the FBI.
When White was asked about the raid during a press conference on Tuesday, it was clear whose side White was on.
Do You Stand With Trump or the FBI?
President Trump is under constant attack from the left. Take advantage of this special offer and show your support for President Trump.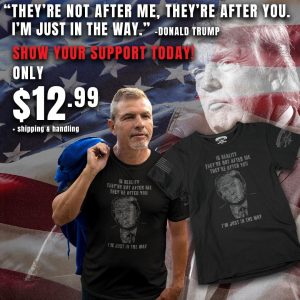 WAIT, WHAT!? Conservative Country Star John Rich Thanks Biden's FBI After Trump Raid
Conservative country music star John Rich reacted to the news of the FBI raid of former President Trump's Mar-a-Lago home with a "big thank you."
Rich, of the country music duo Big & Rich, followed that up with "see you in November!" at the end of his tweet regarding the raid.
Biden Gets Brought Back to Reality After His 'Zero Inflation' Claim
Once again on Wednesday, President Joe Biden showed how out of touch he is with reality when he made the claim there was "zero inflation in the month of July."
Before a bill signing ceremony, Biden appeared to go off script and brag about his failing economy.
Crooked Hillary Attempts to Profit from Mar-a-Lago FBI Raid
Hillary Clinton likes to give us the occasional reminder that she's still around and still awful. In her latest venture, Crooked Hillary attempts to profit from the FBI raid of Mar-a-Lago.
While many people are concerned about the FBI raiding Mar-a-Lago, those on the left are trying to exploit the event. Former Secretary of State Hillary Clinton attempted to use this moment to turn a profit.