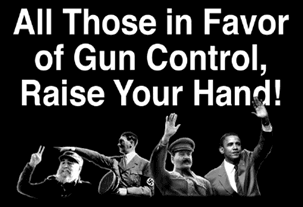 There are always agendas being pushed immediately after shootings. Most notably by President Obama. After the shooting Thursday in Dallas, Obama decided to blame "powerful weapons," in order to push his anti-Second Amendment movement.
The problem is that Obama spoke too soon. He started rambling before all of the facts were in. This time the murderer used a semi-automatic rifle, one that is more than 70 years old, as well as a handgun. These are not quite the "powerful weapons" that Obama is trying to get out of everyone's hands.
Wouldn't it make more sense to acknowledge the motive for the shooting? These men wanted to kill police officers, particularly white police officers. What weapon he used meant nothing, all he wanted was to kill white police officers.
Share this on Facebook and Twitter if you think that Obama used this tragedy to push his anti-Second Amendment agenda.