It's a great moment when someone makes it to the front of the drive-thru line and it's finally time to get that fresh cup of coffee. Except for this time a Dunkin customer saw something much different when they arrived at the drive-thru window.
When the customer got up to the drive-thru window there were two employees going at it in an all-out brawl. And luckily for us this customer pulled out their phone and caught it on video.
Check it out:
— Clown World ™ ? (@ClownWorld_) November 23, 2022
The highlight may have been the young man working the drive-thru like it ain't no thang. He even threw up a peace sign as a value-add to the video.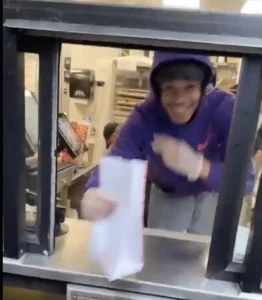 Sometimes you get more than you bargained for and in this instance, it was some blood and guts with your coffee. And you'll never get anything like this at Starbucks, that's for sure.
Trending Political News
Jon Stewart Makes Stunning Admission About the Biden Family
Jon Stewart, comedian and former host of The Daily Show, has definitely proven he leans more than a little to the left over the years. That said, he's still able to call it like he sees it on both sides of the aisle every once in a while. This is one of those instances.
In the latest episode of his Apple TV+ podcast "The Problem with Jon Stewart," Stewart discussed the Hunter Biden laptop story and how it was buried as "Russian disinformation." He discussed with British journalist Gabriel Gatehouse about how this was an erroneous conclusion for the media.
Reporter Asks Bill Clinton the Question Everyone Everyone is Wondering to His Face
Juan Mendoza, a reporter who previously worked for the Daily Caller, confronted former President Bill Clinton about his ties to deceased, disgraced financier Jeffrey Epstein.
Clinton gave an indirect answer when confronted with the question so many people are wondering about.
Conservatives All Point Their Finger at One Person After Underwhelming GOP Election Results
Many conservatives put the blame for an underwhelming midterms performance on former President Donald Trump. The midterm election saw many Trump-endorsed candidates all over the country fail to gain office.
The midterms were seen by many as a sign to move on from Trump. The outlandish candidates pushed by Trump turned some easy wins into close races and other possible wins into losses.
Exit Poll Erases Any Doubt About Biden in 2024
It's very clear that most Americans don't want to see Joe Biden run for re-election in 2024. A preliminary national exit poll found Tuesday makes that even more clear.
When asked if they would like to see Biden run for president again in 2024, 66 percent said, "No," while 30 percent said, "Yes," according to CBS News Radio's Steve Portnoy.
President Biden Gives Insane Response When Asked About Potential Criminal Charges for Hunter
It's natural to feel pride for your son even when you probably shouldn't, but in this instance, it was a very strange response from President Biden.
Biden was asked by Jake Tapper of CNN about potential chargers coming against the man he once described as the "smartest man" he knows.
Former Fox News Anchor Fired Reportedly Fired From NBC
Former Fox News anchor Shep Smith has reportedly been terminated from his role as the network undergoes a major shakeup.
Senior correspondent at Puck, Dylan Byers, broke the news Thursday afternoon.