With Biden's approval ratings in the tank for most of his presidency, it's hard to remember exactly when his presidency began to "spiral out of control." There are many different things that could be pointed to.
One thing that has been a staple of Biden's presidency is what have been known as "Biden gaffes." Many of them involve shaking hands with invisible people. In one of them he actually tried to shake Chuck Schumer's hand two times within five seconds.
One could also point to Biden tanking the oil industry. Gas prices soared past $5 per gallon while the left claimed that the president has no control over gas prices and also called it the "Putin price hike" even though gas prices were soaring before Russia invaded Ukraine. Then when gas prices dropped Biden began taking victory laps every morning on Twitter for what he did to lower gas prices. Talk about hypocrisy.
A Politico piece published Wednesday by author Elise Labott took a different route for what harpooned the Biden presidency: the Afghanistan withdrawal.
A @politico piece by @EliseLabott points out the Afghanistan withdrawal as the moment when things began to "spiral out of control." https://t.co/bNh8lLCioy

— Mike Vance - Think Americana (@thinkamericana) August 17, 2022
Labott pointed to Biden's approval rating before and after the Afghanistan withdrawal as evidence:
"In the months before Afghanistan fell to the Taliban late last summer, Biden was enjoying a honeymoon period since taking office. His average approval rating was about 53 percent," the reporter noted, adding that "within days" of the withdrawal, "Biden's poll numbers went sideways, with a majority of Americans disappointed in his handling of the withdrawal."
It was a year ago when President Biden first had more people who disapprove than approve of his presidency. A Morning Consult Poll from a year ago revealed his "approval numbers dipped lower than his disapproval numbers for the first time at the end of August 2021, when his approval number reached 48 percent — down from 54 percent at the end of June."
Labott emphasized how massive the shift was, "That was the lowest point in his presidency at the time and a big swing in a deeply polarized era that rarely sees large shifts in public opinions of presidents." She also cited another Morning Consult Poll, which revealed that "43 percent of registered voters thought Biden held a great deal of responsibility for the situation – more, respondents thought, than any of his three predecessors involved in the war."
In the end, Labott is left wondering if Biden can ever recover. After all, his Gallup poll rating is worse than "all other modern presidents."
Trending Stories
Episcopal Church Comes Out With Stunning Stance on Sex Changes
The Episcopal Church has come out with a stunning stance with regards to sex changes, even for children. The Episcopal Church is now supportive of sex changes "at all ages," calling it a matter of "religious liberty."
Resolution D066 calls for the Episcopal Church to "advocate for access to gender affirming care in all forms (social, medical, or any other) and at all ages." It also says that backing sex changes is "part of our Baptismal call to respect the dignity of every human being."
UFC President Dana White Gives His Thoughts on the Mar-a-Lago FBI Raid
UFC President Dana White has a long-time relationship with President Donald Trump that goes back to the early days of the UFC. Not only White but several other UFC fighters had Trump's back when it comes to the Mar-a-Lago raid by the FBI.
When White was asked about the raid during a press conference on Tuesday, it was clear whose side White was on.
Do You Stand With Trump or the FBI?
President Trump is under constant attack from the left. Take advantage of this special offer and show your support for President Trump.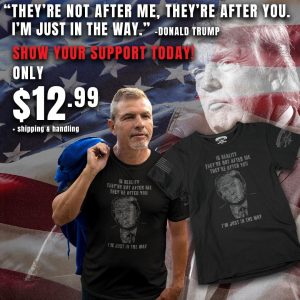 WAIT, WHAT!? Conservative Country Star John Rich Thanks Biden's FBI After Trump Raid
Conservative country music star John Rich reacted to the news of the FBI raid of former President Trump's Mar-a-Lago home with a "big thank you."
Rich, of the country music duo Big & Rich, followed that up with "see you in November!" at the end of his tweet regarding the raid.
Biden Gets Brought Back to Reality After His 'Zero Inflation' Claim
Once again on Wednesday, President Joe Biden showed how out of touch he is with reality when he made the claim there was "zero inflation in the month of July."
Before a bill signing ceremony, Biden appeared to go off script and brag about his failing economy.
Crooked Hillary Attempts to Profit from Mar-a-Lago FBI Raid
Hillary Clinton likes to give us the occasional reminder that she's still around and still awful. In her latest venture, Crooked Hillary attempts to profit from the FBI raid of Mar-a-Lago.
While many people are concerned about the FBI raiding Mar-a-Lago, those on the left are trying to exploit the event. Former Secretary of State Hillary Clinton attempted to use this moment to turn a profit.