Somehow we're already midway through October and before you know we'll be handing out candy to trick-or-treaters.
Instacart, the online grocery delivery and pick-up platform, unveiled America's leading candy preferences, and it's clear that many are smitten with chocolate delights.
To compile the top 10 favorites, Instacart tallied the total weight of each candy variety purchased through its service in October 2022.
Did your favorite sweet treat make the cut?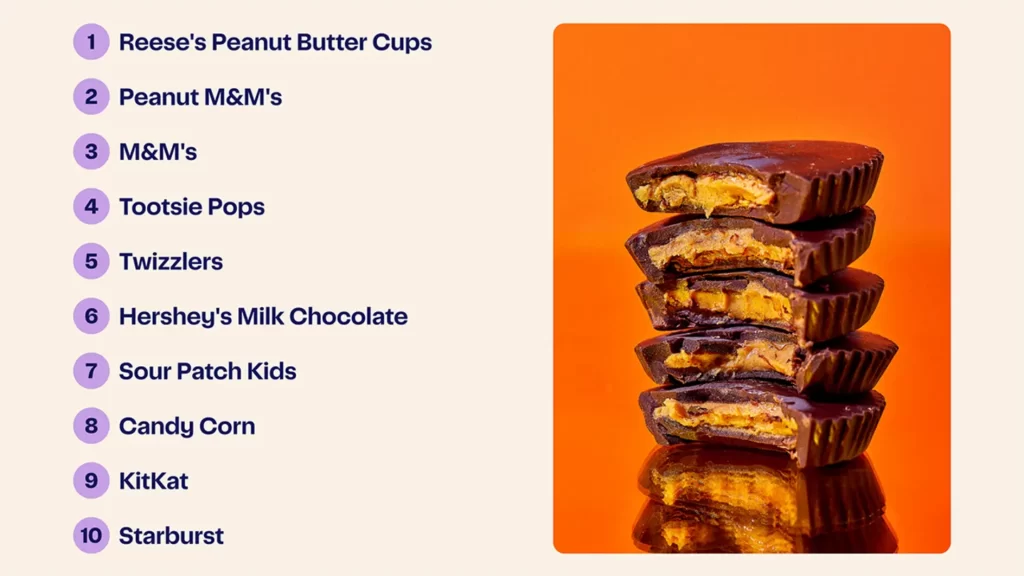 "Reese's Peanut Butter Cups, Peanut M&M's, and classic M&M's reaffirm their status as Halloween favorites among Americans coast to coast," Laurentia Romaniuk, Instacart's trends expert, told FOX News.
"Hershey's Milk Chocolate and KitKat also secured places within the top 10, further underscoring the spell that chocolate casts on Halloween enthusiasts nationwide."
While chocolate undoubtedly dominates American candy dishes, it's intriguing to note the non-chocolate treats that also secured a spot.
Instacart also broke down the favorite Halloween candies across the country state-by-state. Check it out.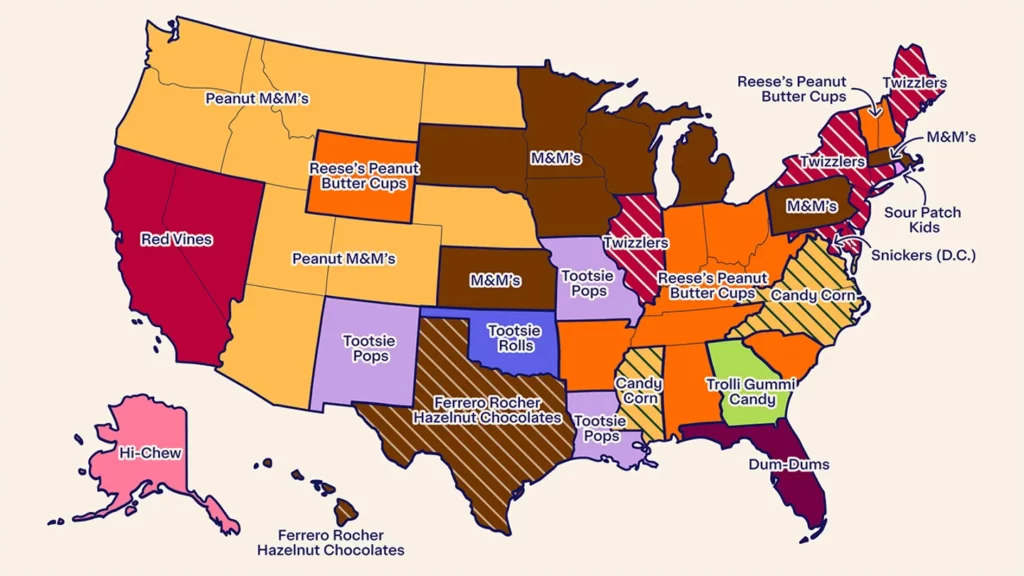 For me, Halloween starts and stops with Reese's Peanut Butter Cups. We can debate what comes next but that's the clear #1 seed.
Trending Political News
Arnold Schwarzenegger Tees Off on Democrats: They 'want to f--- up every city in America'
Arnold Schwarzenegger stated that Democrats want to "f--- up every city in America" during a recent appearance on SiriusXM's "Literally! With Rob Lowe".
The conversation was sparked when Lowe, seeking to understand political identities, asked the 76-year-old "Terminator" actor and ex-Republican governor of California about the essence of being a Republican versus being a Democrat.
People Buzzing About Costco Knock-Off of Fan Favorite Food Court
Skechers might soon gain fame for more than just footwear, as a California-based store introduced its own concession stand reminiscent of Costco — and it's a hit with the crowds.
The "Food Spot" by the warehouse shoe brand, situated in a Gardena store, is a raised outdoor dining area that sees customers forming queues around the premises, eager to take a respite from their shopping spree. The menu boasts items like hotdogs, burgers, churros, and even pizza, among others.
Ted Cruz Makes Bold Prediction About Who the Democrats Will 'Parachute' in to Push Out Joe Biden
On Monday, Senator Ted Cruz of Texas speculated that the Democratic Party might nominate former First Lady Michelle Obama as their presidential candidate in 2024, as a replacement for President Joe Biden.
"Here's the scenario that I think is perhaps the most likely and most dangerous," Cruz said on his "Verdict with Ted Cruz" podcast. "In August of 2024, the Democrat kingmakers jettison Joe Biden and parachute in Michelle Obama."
High School Students Make a Stand Against Transgender Bathroom Rule
Numerous students from Pennsylvania's Perkiomen Valley School District staged a walkout on Friday due to the school board's decision not to implement a policy that mandates transgender students to use bathrooms that align with their birth-assigned sex.
"Kids were upset. Girls… we wanted to protect them. They were upset. They didn't want men in their bathroom," shared John Ott, the walkout's orchestrator, with FOX News on Monday.
James Woods Warns Bank Exec He Better 'Come in Heavy' After Threats to Seize Property
Famed actor James Woods confronted JP Morgan CEO Jamie Dimon with a warning to "come in heavy" in a tweet shared on September 19.
Many have criticized Dimon for his recommendation that the U.S. Government and environmentally-aware companies should take over citizen-owned assets to further their climate actions. In his yearly message to stakeholders, the JP Morgan CEO showed his support for this exclusive strategy. Yet, Woods is not standing by silently.
Walmart Dessert Pulled Because of Label's Potentially Deadly Consequences
Walmart stores across the country are recalling certain cake slices due to an undisclosed allergen, presenting potential health dangers for some consumers, as advised by federal health authorities.
David's Cookies initiated a recall when they discovered that 960 of its Marketside Ultimate Peanut Butter Chocolate Cake slices were mistakenly labeled as Marketside Chocolate Chip Explosion Cake slices, as per the statement from the FDA.