Yahoo News pushing fake news story. On Thursday Yahoo published a piece by Chris Riotta. It was titled, "Hillary Clinton Gets More Votes Than Any Candidate Ever." The  following information is from the piece.
"Former Secretary of State Hillary Clinton has garnered at least 65,527,625 votes in the 2016 presidential election, the most any presidential candidate has ever received and over 2.6 million more than the president-elect, who has received at least 62,851,436 votes, according to figures released Wednesday by The Cook Report, a nonpartisan election analysis organization. Clinton now has a margin of more than two percent of the popular vote majority than Trump, as states like Florida and California continue to submit ballots from primarily Democratic-held regions like Miami and Los Angeles."
Yahoo News Pushing Fake News Story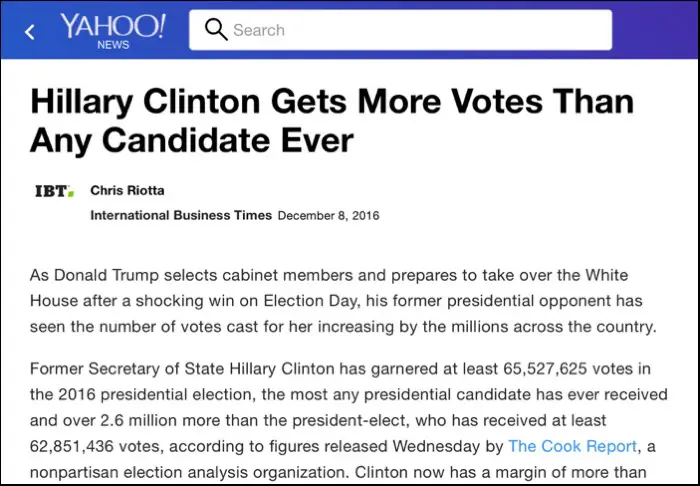 There is only one problem with this story. It is not true.
Hillary is almost 4 million votes shy of having the most votes by any candidate ever. In 2008, Barack Obama received 69,499,428 votes. Currently Hillary has not even reached Obama's 2012 total of 65,915,795. She trails that total by about 388,000 votes.
Apparently Yahoo News did not have time to do the 30-second Google search to get these vote totals.
Chris Riotta has not addressed his error. He has posted a new article on IBTimes and it does have accurate voter totals.
It is not for sure whether it was Riotta or Yahoo News who posted the fake statistics. If Riotta, it is a bit ironic, since he condemned the writer of the #PizzaGate story.
https://twitter.com/chrisriotta/status/806867583123292161?ref_src=twsrc%5Etfw
Yahoo has also taken shots at fake news.
Hillary Clinton issues stern warning against spread of fake news: "Lives are at risk" https://t.co/OJ06jXHKjw pic.twitter.com/FC4mCqZA0b

— Yahoo News (@YahooNews) December 9, 2016
Hopefully a lesson was learned here and moving forward Yahoo and Riotta will take less than a minute to fact-check their statistics.