If you have looked at Facebook or Twitter, or even turned on the news at all today, then you have likely seen that the Capitol building in Washington, D.C. was "breached" by protestors at the MAGA Million March.
However, as new footage surfaces, it would appear that there was not a breach at all. In the video below, the police open the gates and let protestors in! What is going on? Nothing is adding up.
 

View this post on Instagram

 
I personally believe that many of the protestors who took over the building were actually Antifa members who were posing as Trump supporters. Right now, there is pure chaos and we may never know the truth. However, here are a few photos to show why I believe they are Antifa.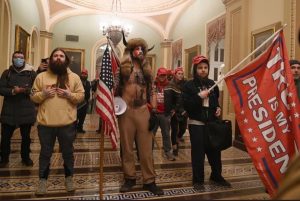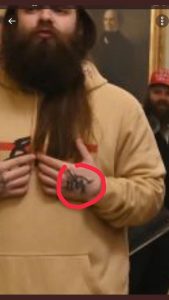 Notice the hammer and sickle? AKA the symbol for communism.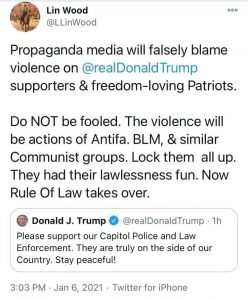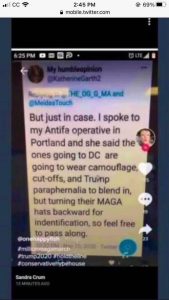 Trending Political News
Report: China President Orders Army to Prepare for War 'At Any Second'
What is going on with China? Why are they preparing for war and with who? What don't we know??
On Monday, Chinese President Xi Jinping ordered the People's Liberation Army (PLA) to prepare for war "at any second" and keep "full-time combat readiness," according to the South China Morning Post (SCMP).
Michelle Obama Blasts 'Unconscionable' Trump for 'Focus on Overturning Election Rather Than Helping Struggling Families'
Former First Lady Michelle Obama slammed President Donald Trump for fighting the election results, accusing him of being "unconscionable" in a series of tweets.
"Your vote is your voice. It's your power. And right now, from the President of the United States on down, we're seeing and hearing just how desperate some are to take that power away," she wrote. "They want us to believe that their pride is more important than our democracy."
Biden Declares 'Decent Republicans' Will Break from Trump
According to former Vice President Joe Biden, there are "really decent Republicans" who are willing to break from President Donald Trump.
"There are enough really decent Republicans, you're seeing them step up now in the United States Senate, who don't want to be part of this Trump Republican Party," Biden said to radio host Kenny Burns.
McConnell Promises Not to 'Judge Anybody' for Their Electoral Decision
On Wednesday, Senate Majority Leader Mitch McConnell allegedly told GOP senators that he "won't judge anybody for their decision to object the Electoral College votes, which will be counted on Wednesday.
Senator Kevin Cramer relayed the conversation to Politico, and said that McConnell acknowledged that it is a heavy decision and that each lawmaker must "make it yourselves."
Biden Praises Stacey Abrams: 'Nobody Has Done More for the Right to Vote in America'
Former Vice President Joe Biden has really lost his marbles! The man is now praising failed Georgia gubernatorial candidate Stacey Abrams and declared that no one "has done more for the right to vote."
Trump Attorney Blasts Raffensperger: 'You Secretly Taped Confidential Call'
One of President Donald Trump's lawyers blasted Georgia Secretary of State Brad Raffensperger for "secretly" recording a "confidential settlement discussion" between the president and himself, and then leaking the audio.
Lawyer Kurt Hilbert was referring to leaked audio of Trump telling the Georgia official, "I just want to find 11,780 votes, which is one more than we have. Because we won the state." However, only portions of the audio were being shared, rather than the full audio, so it appeared that Trump was trying to convince Raffensperger to be dishonest then that wasn't the case at all.