If Chelsea Clinton ever ran for a public office it would not go well for her. Very few want Chelsea Clinton to run according to a Morning Consult poll that was released on Friday.
Nearly half of the people who participated in the poll said they would not want to see Chelsea Clinton run for office. 27% of the participants said they'd actually like to see her run. About 1/4 of the people said they were unsure or really don't have an opinion on it.
In the poll, people were asked, "Would you like to see Chelsea Clinton run for political office one day, or not?"
As usual, the Democratic support for a Clinton was larger. 48% of the Democrats in the poll support Chelsea running for office. 75% of the Republicans oppose a future run for office by Chelsea Clinton.
The poll was ran by Morning Consult online from April 27 to April 30. It was a nationwide poll. It was ran shortly after a media campaign by Clinton where she appeared on magazine covers such as Elle Magazine and Variety. She also did an interview on "CBS This Morning."
Very Few Want Chelsea Clinton to Run for Office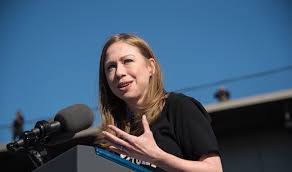 Around the time of the poll Chelsea Clinton had just announced her children's book titled "She Persisted." In the book Clinton "introduces tiny feminists, mini-activists and little kids who are ready to take on the world to thirteen inspirational women who never took no for an answer, and who always, inevitably and without fail, persisted."
Time and time again Clinton has denied that she has any intention of running for office. Despite this, journalists are constantly asking questions about it. I'm constantly surprised by the stories of me running for fill in the blank: Congress, Senate, City Council, the presidency," she said to Variety Magazine in March. "I really find this all rather hysterical because I've been asked this question a lot throughout my life and the answer has never changed."
Can you imagine if Chelsea Clinton ran for office? Somehow it seems like something that will definitely happen, despite her claiming otherwise.