Ah, white guilt. One of the most cringeworthy things to encounter. It is okay to be white, people!!
Pulp Fiction actress Rosanna Arquette is so "disgusted" by being white, what she felt the need to apologize for it via Twitter.
Her (now deleted) tweet read, "I'm sorry I was born white and privileged. It disgusts me. And I feel so much shame."
Why is she feeling such shame and guilt? The woman's net worth is estimated at about $9 million. Does she feel bad for being rich? Who knows.
Arquette is not new to being controversial though. In another deleted tweet, she posted a photo of herself kneeling, with rows of American flags behind her. The caption read, "I'll never stand for the flag again."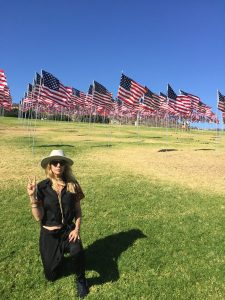 Forget apologizing for your genetics and skin color. How about an apology for being a disgusting human being, and kneeling for the very flag that ensures your freedom to do so? Men and women of every color have fought for what that flag stands for, and she is disrespecting every single one of them.
Rosanna Arquette isn't the only blonde award-winning actress to wish she wasn't white. In 2016, Actress Julie Delpy said she believes there's "nothing worse than being a woman" in Hollywood and wished she were black instead.

"Two years ago, I said something about the Academy being very white male, which is the reality, and I was slashed to pieces by the media," the Oscar-winning star told The Wrap. "It's funny—women can't talk. I sometimes wish I were African American because people don't bash them afterward." Delpy later apologized.
Now, if you would all kindly join me in a universal eye-roll at this idiocracy. Never apologize for how you look simply because other people have made it seem like you should feel ashamed for it.