Hollywood gets sicker and sicker. Disgraced Guardians of the Galaxy writer and director James Gunn not only makes jokes about pedophilia, but also attends pedophilia themed parties.
His website featured photos of himself attending a "To Catch a Predator" themed party. This is a show that busted pedophiles who were targeting children online.
I wish I never defended James Gunn. pic.twitter.com/GdoG4daK8D

— Ian Miles Cheong (@stillgray) August 11, 2018
In the images, the former Disney director is dressed up as a priest and has women all around him who are portrayed as young children.
Pedo themed costume party. Pedo jokes. Pedo themed humor. Maybe I'm just fucking paranoid but that looks like a pattern of behavior.

— Ian Miles Cheong (@stillgray) August 11, 2018
After many "disturbing" jokes were uncovered on Gunn's Twitter account, he was fired by Disney. After factors from Guardians of the Galaxy spoke out in his defense, Disney is now in negotiations to give his job back.
"The offensive attitudes and statements discovered on James' Twitter feed are indefensible and inconsistent with our studio's values, and we have severed our business relationship with him," Alan Horn, Walt Disney Studios chairman said after these tweets were discovered.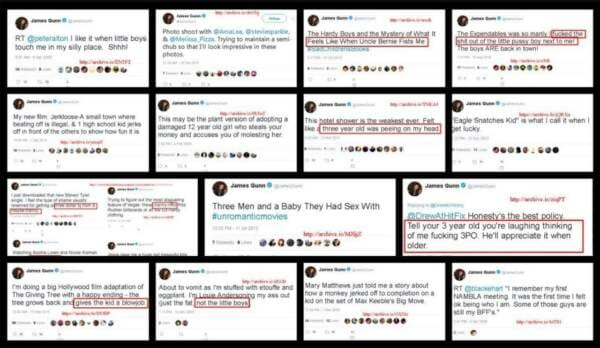 Just hours after these new photos surfaced, there were reports that Marvel is pushing Disney to bring Gunn back into the fold.
Other tweets included disgusting "jokes" and obscene comments about children.