Mike Cernovich broke another big-time story. This time it involves Google. Google hired contractors to de-list InfoWars from their search results.
Per his post on Medium:
Google has hired contractors to remove or limit Alex Jones' website Infowars.com from its search engines. According to a search engine evaluator for Google, all contractors have been [instructed] to actively rate InfoWars as a low quality and untrusted site.
Take a long look at this image.
Cernovich breaks it down illustrates how they give step-by-step instructions to the contractors:
InfoWars is not an "outright false" website and is not "among the worst of the worst."
"There are a number of controversial, often debunked claims that the site regularly promotes."
InfoWars articles must be rated "Low to Medium".
Here in an image from his article: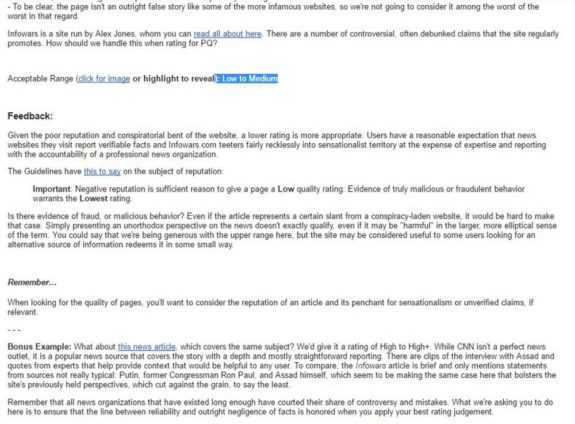 Since then, Business Insider has jumped on this and helped further validate the claims. One again Mike Cernovich breaks a big-time report.
Don't forget, Alex Jones and Google certainly have some history. Back in February Alex Jones stormed Google's headquarters and put the cameras on Google. It got awkward quick. Watch the video.
https://youtu.be/CJNO3CCI7rI
These two have going back and forth for a long time. It will be interesting to see how this unfolds in the coming days.