An illegal alien from Mexico, who has a five-year-old son battling Leukemia, was presented a deportation notice by Immigration and Customers Enforcement (ICE).
Jesus Berrones made a request for an extension so he could stay in the United States, but it was denied on Thursday by ICE.
He lives in Glendale, Arizona with his pregnant wife and five children. He has been ordered to appear on Monday and he will be deported, according to HuffPo.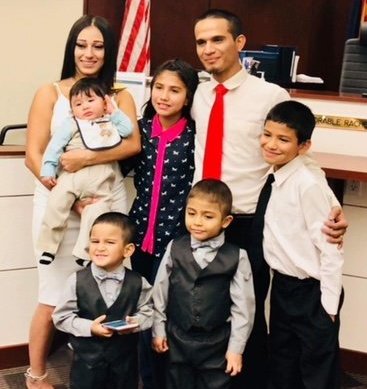 Berrones has been living in the U.S. since he was 1½, when his parents brought him here in 1989, according to his wife, Sonia. In 2006, at age 19, Berrones was caught driving with a fake license and deported to Mexico. He then twice re-entered the country unlawfully to rejoin his family.
In 2016, ICE granted Berrones a stay of removal based on his son's illness. Even when it has grounds for deportation, the agency can use its discretion to grant stays and has commonly done so in the case of individuals caring for a sick child. 

Last year, under the new Trump administration, Berrones went to ICE to refile a stay, and officials told him it was not necessary because he was no longer a deportation priority, Wilkes said. But in January, Berrones got a notice from ICE that he would be deported. The lawyer filed another request for a stay, but it was recently denied.

Berrones' 5-year-old son has been battling leukemia since 2016 and is undergoing chemotherapy. Berrones is the family's sole breadwinner.

"He's a hard-working man," Sonia Berrones, who is a U.S. citizen, told HuffPost on Friday, in tears. "We're scared. The kids will ask me: 'Where's Daddy?'"
HuffPost reached out to ICE for comment, but did not receive a response by early Saturday.
Since Friday Berrones has taken refuge at a "sanctuary church" in Phoenix. It is called Shadow Rock United Church of Christ. Nationwide there are hundreds of churches like this that welcome illegal immigrants that are facing deportation. They remain in these churches until they are no longer under threat.
Berrones plans to remain at this church until he is granted a stay by ICE or his lawyer Grant Wilkes can work out a resolution.
What do you think of this? Should he be granted an extension or be forced to obey the laws of this country and be deported?
The Berrnoes And Their Five-Year-Old Son Battling Leukemia
Check out some of the responses on Twitter:
Your report mentions Jesus Berrones was deported twice.
First time at age 19 while using a fake drivers license.
So he knew he was an illegal alien.
He's now 30.

Got a question. Why didn't he file for legal immigrant status while in Mexico at those 2 times across a dozen years?

— Bubba Gump (@Bubba_Gump_2) February 11, 2018
ICE plans to deport 30-year-old Jesus Berrones, who lives in Arizona with his pregnant wife and five children. His 5-year-old son has been battling leukemia since 2016 and is undergoing chemotherapy.

Trump's ICE is the Gestapo in America.

— Remove Trump Now (@KaniJJackson) February 10, 2018
Hi Jon! I am the pastor @shadowrockucc We are the church offering sanctuary to Jesus Berrones so his family can stay together. Thanks for your support.

— Kennethheintzelman (@kenshadowrock) February 10, 2018
Illegal alien Jesus Berrones finally set to be deported https://t.co/52ts3GraFR via @MailOnline

He decides to marry the mother of his FIVE children after he finds out he's being deported and the only place to go for sanctuary is a church. #DeportNow

— Illusive Answer (@Illusively) February 11, 2018
Jesus Berrones does not have #DACA status, has been deported 3+ times, has 10+ convictions, some more serious than others, AND he was originally deported under Obama and deferred until now. #stopthelies

— Pat 🇺🇸 (@therealpatquan) February 11, 2018