Last year at the time he media was working overtime to protect Hillary from scandals. One of the stories of the 2016 election was Danney Williams claiming Bill Clinton as his father. Now, Danney Williams wishes Happy Father's Day to Bill Clinton with an epic tweet.
The story broke back in October on The Drudge Report. Also, Danny made the claim that Bill Clinton is his father on social media.
Danney Williams and Bill Clinton as Kids
Danney Williams is a 27-year-old black man from Arkansas.
Danny's mother was a prostitute and lived in Arkansas during the mid-1980's. She claims that she had sex with Bill Clinton during that time.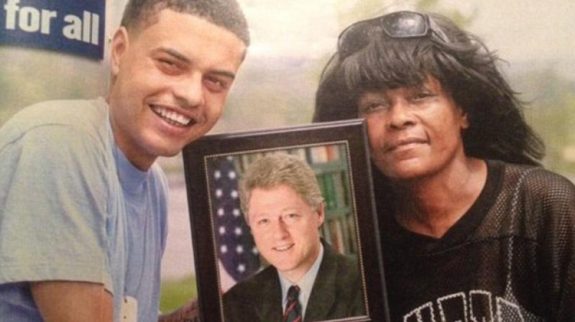 Bobbie spoke about Bill in an interview. He said that during one encounter between them Bill rubbed her belly and said,"Girl, that can't be my baby." But I knew it was. I just had this kind of woman's feeling that this was his child".
The liberal media did not want any part of this story. Does that come as surprise? Probably not, because the Clintons are in all of their pockets.
Then yesterday Danney Williams went off with some epic tweets.
Danney Williams Wishes Happy Fathers Day to Bill Clinton
I'm not looking for sympathy nor welfare, I just wish you didn't forget about me @billclinton. #BillClintonSon #ClintonKid pic.twitter.com/txNFjfMB5f

— Danney Williams (@danney_williams) June 18, 2017
Even though you abandoned me and only took care of Chelsea, I still want to thank you for giving me life. Happy Father's Day @billclinton. pic.twitter.com/EMKla9lPM1

— Danney Williams (@danney_williams) June 18, 2017
We can't end Father's Day without the truth. @billclinton #BillClintonSon pic.twitter.com/t1k6rLkx9m

— Danney Williams (@danney_williams) June 19, 2017
Like and share this story on Facebook to Danney Williams can expose his father ignoring his son.