On Sunday afternoon CBS erroneously published an obituary for Barbara Bush, who is alive. Earlier in the day her family announced her health was failing.
The headline of the story was "DO NOT PUBLISH – Former first lady Barbara Bush d*es at age 92 DO NOT PUBLISH." CBSNews.com published the story briefly.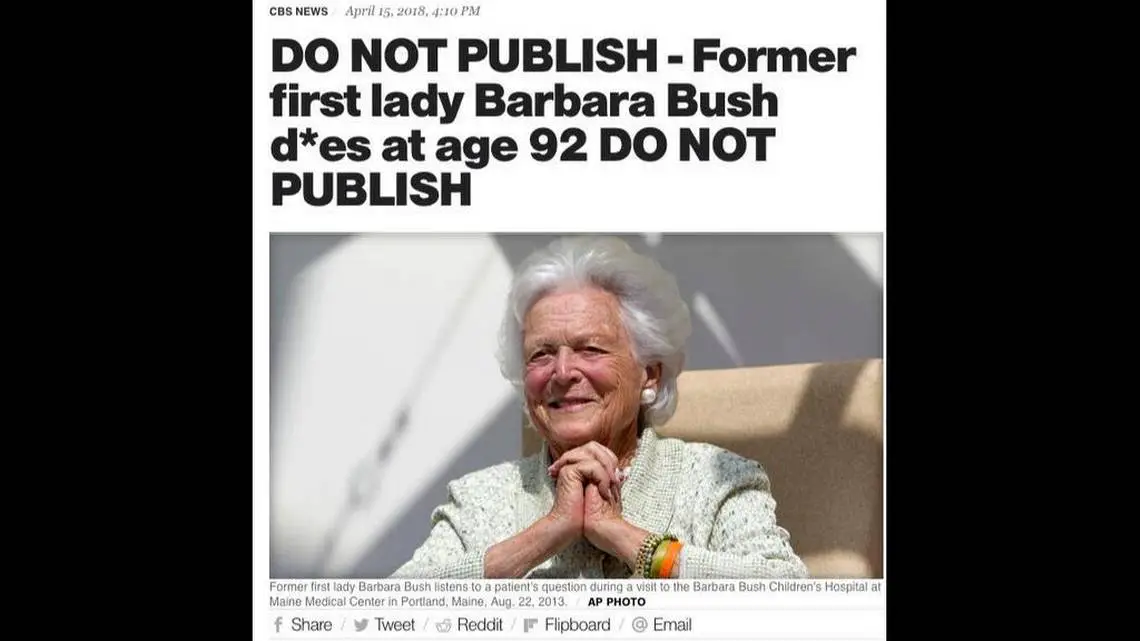 Per CBS News:
The first lines of the story read, "Barbara Bush, the witty, gregarious matriarch of a political dynasty that propelled two of its members to the White House and dominated Republican politics for decades, has died after a series of recent hospitalizations. She was 92. A Bush family spokesman said Bush passed away peacefully in her home, surrounded by loved ones."

News organizations often prepare obituaries for prominent people in advance so they will have them ready when needed. There have been several cases of such stories being prematurely published in the past, commonly by accident. Premature obituaries have been published for financier George Soros, Apple founder Steve Jobs, former Vice President Dick Cheney, Pope John Paul II and Barbara Bush's husband, former President George H.W. Bush, according to The Guardian.

A family spokesman had announced earlier Sunday that Barbara Bush, who has undergone a series of recent hospitalizations, had decided not to seek additional medical treatment and instead seek comfort care at home.

Bush, 92, served as first lady during her husband's term from 1989-1993 and is the mother of former President George W. Bush. She has been battling chronic obstructive pulmonary disease, or COPD, reported CNN.
Thoughts and prayers go out to the Bush family during this tough time.
Barbara Bush
June 1, 1990
Wellesley College Commencement

"At the end of your life, you will never regret not having passed one more test, winning one more verdict, or not closing one more deal. You will regret time not spent with a husband, a child, a friend, or a parent."

— David Begnaud (@DavidBegnaud) April 16, 2018
My thoughts and prayers are with Mrs. Barbara Bush and the Bush Family. God bless you, Mrs. Bush, and may he hold you in the palm of his hand.

— Condoleezza Rice (@CondoleezzaRice) April 16, 2018
With the news of Barbara Bush facing her last days, it reminded me of this letter President Bush left for President Clinton in 1993- a noble & classy sentiment. In the spirit of this letter, I wish the Bush family well in this time of sorrow for them. pic.twitter.com/NGPTdUOpl7

— Charles Walsh (@cwalsh516) April 15, 2018
Barbara Bush has taught us all so much. Courageous, joyful, patriotic, faithful, charitable, studious, hilarious. There are not enough characters to describe her character. 🙏🏻 pic.twitter.com/b3R1fYBHcX

— Dana Perino (@DanaPerino) April 15, 2018