There is absolutely no stopping the stopping this train that is coming down the tracks.
I actually don't mean the Trump train either, though that is making its way through as well. I'm talking about the constant release of damning evidence against Hunter and Joe Biden.
There really is so much to be released and you're not going to see it in the mainstream media. It's only going to be websites like this that you're going to get all of this dirt.
According to Conservative Daily News, Hunter Biden traveled to China on Air Force Two in December 2013 and arranged for his father, then-Vice President Joe Biden, to shake hands with the CEO of BHR. At the time of the meeting, which Hunter Biden later described as social in nature, BHR was seeking to raise $1.5 billion from Chinese state-backed investors. The firm currently manages the equivalent of $2.1 billion in assets, according to its website.
Hunter Biden's lawyer, on behalf of his client, said in a statement Sunday that the younger Biden had served as an unpaid member of BHR's board since its founding in 2013, and that it wasn't until October 2017 that he invested $420,000 to obtain a 10% equity stake in the firm.
But Hunter Biden did not invest in BHR Partners directly.
Rather, Chinese business records reveal a company called Skaneateles LLC, which Hunter Biden controls alongside Schwerin, became a BHR shareholder on Oct. 23, 2017.
In a text, Hunter tells his father about Eric Schwerin who is holding onto nearly a million dollars of Hunter's money:
Eric is holding without any right my checks from investments that somehow went to his address until I agree to give him 100% equity in a business that I own 100% of and fired him from 2.5 years ago. No kidding- he knows that i can't sue him because I can't wait that long for the money without creating much bigger problems. Like loosing my life insurance policy of which Kathleen is the beneficiary in perpetuity (insane concession my attorney made). Anyway, Ive refused to negotiate with him. I'm not going to let him do it anymore. I borrowed enough money to take care of obligations like medical for me and girls and taxes and alimony and life insurance.
He's been doing this to me for three years and not a single person except George and Jeff Cooper know it's a lie. George just proved that the agreement Eric said I signed was actually my e-signature that I never placed on any document. That's been the cornerstone of any argument Eric had. He obviously was able to convince everyone that I've wronged him while he holds over $800,000 of mine totally without any merit. That's just one investment. Over three years it's well over $1M. But other than the two people no one has believed me and has taken Eric at face value (what motive?). He's also been Kathleen's source of information that's put me at a real disadvantage (phone records show that).
The next morning, Biden responds with a text about an individual passing away followed by confirmation he received the message:
I JUST GOT THIS MESSAGE
DAD
He then offers his assistance with Eric with "absolutely no hesitancy":
Can I help with Eric
I have absolutely no hesitancy
Let me help if you think i can
Love dad
Roughly one week later, Hunter inquires with Biden again about Eric withholding finances from him, and asks for money to pay bills:
Dad can you please cash app me $2000. I have the money. But now I can't access it b/c Eric deposited in y account but had Edward Prewitt my banker and his our mutual friend put a hold on it. I'm again overdrawn in my account for bills that can't be left unpaid.
Joe Biden responds, offering assistance:
Yes what do I do to do it
Is there a thing called cash app
Then we see the $2000 transaction which took place.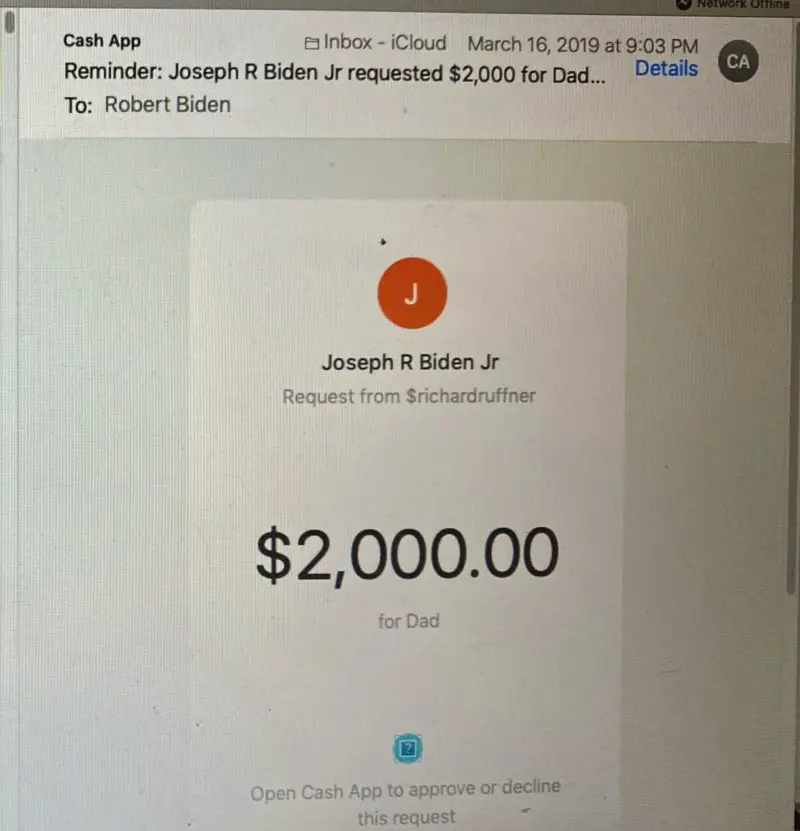 I really believe that the rabbit hole on this matter goes really deep, really really deep.
Trending Political News
Report: Georgia at 'High Risk of Militia Threat' Around Election
According to a new report, Georgia has been marked as one of the five states highest for far-right militia acting around the presidential election in November.
Armed Conflict Location & Event Data Project and Atlanta-based Militia Watch are now warning that armed extremist groups "pose a serious threat to the safety and security of American voters." They cite election concerns, fears of a left wing "coup" and anti-coronavirus lockdown as the main factors behind a possible military uprising.
Jennifer Aniston Announces She Voted for Biden Because Trump 'Racist' and 'Sexist'
I have always liked Jennifer Aniston. "Friends" has always been one of my favorite shows and her role as Rachel is iconic. I also secretly rooted for her during the whole Brad Pitt and Angelina Jolie affair....even though I was barely even old enough to know what was going on.
However, I am less interested in her now, as she announced on Instagram that she voted for Joe Biden and Kamala Harris. She added that "our current President has decided that racism is a non-issue" and is "deciding what women can and can't do with their own bodies."
AOC Responds to Amy Coney Barrett Confirmation: 'Expand The Court'
Rep. Alexandria Ocasio-Cortez went from slinging beers at the bar to suggesting idiotic legislation in Congress.
Upon the confirmation of Amy Coney Barrett to the Supreme Court on Monday evening, AOC immediately began demanding more judges be added to the judicial body, otherwise known as packing the court.
Kamala Harris Uses Both Braincells to Introduce New Bill: Longer School Days
Senator Kamala Harris, also the Democrat vice presidential candidate, came up with a new genius idea that I am sure she used both of her braincells to come up with: longer school days!
On Wednesday, Harris introduced a bill to lengthen school days by three hours, putting schools ending at 6 p.m. rather than the average 2 p.m. to 3p.m. She claims that it would help parents with their work schedule.
CNN Host Unloads on Pelosi for Refusing to Agree to New Relief Bill
Speaker of the House Nancy Pelosi has been the opposite of caring and helpful when it comes to trying to help the American people.
It has been months since anything with the stimulus was signed and they've been fighting about it for months since then.
President Trump Is Right About New York City, It's Dead...Take a Look
New York City...the city that never sleeps used to be a beautiful city.
I've been to the city a handful of times and I've always enjoyed it. There is so much to do, there are so many interesting people as well. I even considered moving there at one point.