Former Vice President Joe Biden is a slimeball. There's no mistaking that.
When the presidential hopeful gave a sermon to a black church in South Carolina on Sunday, he related President Donald Trump to the Ku Klux Klan (KKK) in an obvious display of sleazy, and deceitful politics. What makes it even worse is that it was the eve of MLK day.
"We can defeat this moment of hate. … This president and his — the Ku Klux Klans and the rest of them, they think they've beaten us again. But they have no idea — we're just coming back. God love you all," Biden told the Bethlehem Baptist Church congregation.
https://www.facebook.com/FOXBaltimore/videos/178176293254931/UzpfSTE0MjY2MTA3OTczNTAzNjU6Mjk5NzAxNTY2MzY0MzE5Ng/?q=Joe%20Biden%20south%20carolina&epa=SEARCH_BOX
As if one lie wasn't enough, Biden went on to repeat the false claim that Trump referred to the Charlottesville white supremacists and neo-Nazis as "very fine people" in 2017.
Talk about fake news.
"They asked the president what he thought, and he said, 'There are very fine people on both sides'," Biden said.
That is not even close to the truth. Trump actually condemned both groups.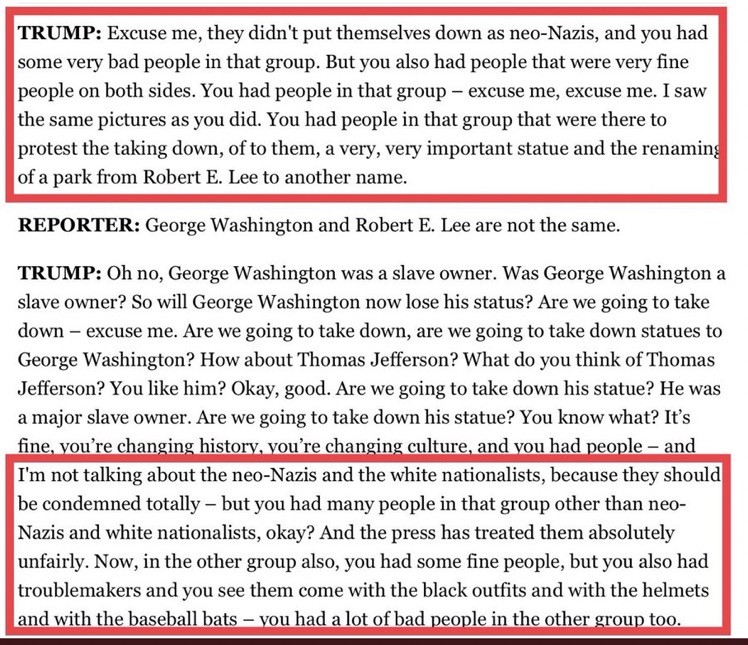 Breitbart News specifically confronted Biden directly at the Iowa State Fair last summer with the fact that he was misquoting the president. He and his campaign continue to claim otherwise, and to spread the "Charlottesville hoax."
Biden has made the false claim throughout his campaign, citing it as his very reason for running in his launch video. His sermon Sunday repeated what he has said previously in South Carolina — but with an explicit link to the KKK.
Biden was introduced by Rep. Terri Sewell (D-AL), who endorsed Biden and said that there was "no bigger threat to [Dr. Martin Luther King, Jr.'s] legacy than the person who is in the White House now."
Continue reading on Breitbart News